Images from Home
Daniel enjoying the fine weather too!
Zuzanna enjoying the lovely weather
Michael doing his exercise!
Zuzanna with her sisters
Mairtin on a Zoom call with friends
Mairtin making a mess at home! Great work!
So nice to see Beth!
What are you up to Dylan?! Love the Covid haircut!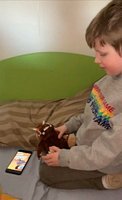 Look at Cian, looking at Teacher Sinead reading/performing The Gruffalo!
Another Covid haircut! Here's Luke on his trampoline! He LOVES to bounce!
Dylan doing his stretches! Well done Dylan!
Zuzanna who was painting!
Cian with the ball ON his lap. Great work Cian Mc!
Great girl Maia! Helping out with the washing!!
Jay and his brother enjoying the lovely weather!
Michael chatting with buddies online 🙂
Images from School
This is a few moments from Reception of School (for our current students to look at and recall and know we will be back there again before too long). And for new students/families to start to get familiar with the sights and look and feel of school. More to come…
Families, this is a space where you can share a story from home if you wish!
---
Please complete the form below and tell us your stories from home whilst the school is closed and we will publish your story on this page.